Sergey Estrin Architects, Sanofi-Aventis Company's Office in Moscow | Arthitectural, 11.01.2012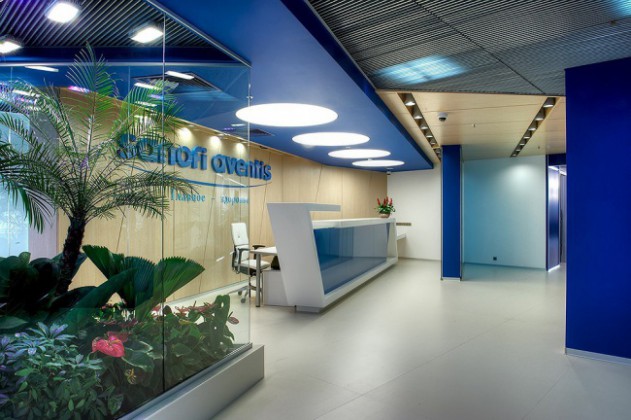 The location for the new office – in the business center that was built where "Minsk" hotel had been located – was chosen by Sanofi-Aventis in the first place because of the convenience of being close to the city center, at one of its main streets. This "geographic" advantage, however, had its weak sides as well: for one, the building on Tverskaya street has rigorous height restrictions – which inevitably led to the construction of floors with relatively low ceilings.
At the very first acquaintance with the leased premises Sergey Estrin and his team realized that the main problem that they would have to find a solution for was the feeling of "crushing" overhanging ceilings. The original layout of the floors could hardly be called successful or rational either – in the center they were "cut through" with a rectangular atrium, the area of which, however, was disproportionately smaller than the area of the floors itself so it actually got "lost" in the overall volume. "The first sketches did not look very promising: the tiny atrium, "thick" rooms along its perimeter, a plague of communication lines that could not be moved anywhere – Sergey Estrin reminisces – I tried to spin this plan in every way I could think of until I finally came up with the solution that consisted in breaking through the floors with a few pass-through's that would not be necessarily parallel to one another".
Arthitectural
Выполненные работы